Bajen International in English
Welcome to Bajen International
Bajen International Travel Club consists of eleven Hammarby IF fans of young middle age. Two members are chairmen and also tourleaders, these two individuals are responsible to conduct the annual trip. The destination is a secret for the other members until the day of departure. During the trip an annual meeting will be held and at least one soccergame to be seen. Club finances shall cover travel, accommodation, tickets to the game(s) and a garment/accessoar.
Members
- click on photo for more information
Our trips so far...
Hotel Arethusa
6-8 Mitropoleos, Athens 105 63
Aten
Petit Palace Arana
C/ Bidebarrieta, 2. HBI01191
Bilbao
It took us eleven years to come to France, but when we finally arrived we had a really great time in a very pleasant town; Nice. Actually we spent the first day (evening) in Monaco because the mandatory soccergame took place in Stade de Louis II stadium between AS Monaco and Stade de Reims. The second day we had a two hour segwaytrip with an englishspeaking guide. The sun was totally shining on us during the whole trip, it was especially nice when we populated the roofbar at Boscolo Hotel Plaza with an amazing view over Nice.
Photos from this trip
Friday (11/3) Saturday (12/3) Sunday (13/3) Monday (14/3)
(opens in a new tab/window)
Hotel Univers
2 Rue de la Liberté
06000 Nice
On our tenth anniversary we went to Belgium and the picturesque little town Antwerp, we stayed at the five star luxury hotel Hilton in the middle of town. We experienced a lot of cultural things, amongst other we had a beer at the best pub in the World, Kulminator. We had a guided tour at a local microbrewery (Pakhuis) and of course we had a two hour long guided segwaytrip.
Photos from this trip
Friday (6/3) Saturday (7/3) Sunday (8/3) Monday (9/3)
(opens in a new tab/window)
Hilton Antwerp Old Town
Groenplaats 32
Antwerpen 2000
America Diamonds Hotel
Rua Tomas Ribeiro, 47
1050-226 Lisboa
Majestic Plaza
Stepanska 33
110 00 Prague 1
2012 - Düsseldorf
- Germany
NH Düsseldorf City Center
Adersstrasse 29-31
D-40215 Düsseldorf
2011 - Liverpool
- England
Jurys Inn
31 Keel Wharf
Liverpool L3 4FN
England

Hotel Sapphire
Ibni-Kemal Caddesi No:
14-16
Old City
Sultanahmet
34400 Istanbul
2009 - Copenhagen
- Denmark
Ascot Hotel
Studiestræde 61
1554 Copenhagen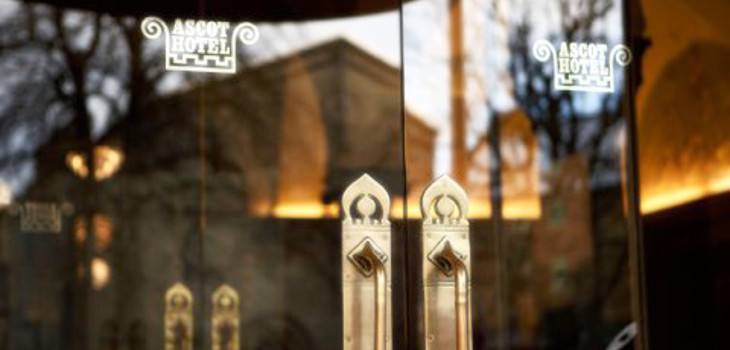 2008 - Amsterdam
- Netherlands
NH Caransa
Rembrandtplein 19
1017CT Amsterdam
Hotel Aliseo
Corso Italia 6
20122 Milan
2006 - Glasgow
- Scotland
Argyll Guest House
Sauchiehall Street
Glasgow G3 7TH
Bajen International in English